Movie/tv News
Wait, Was That The Superman & Black Adam Crossover The Rock Was Teasing?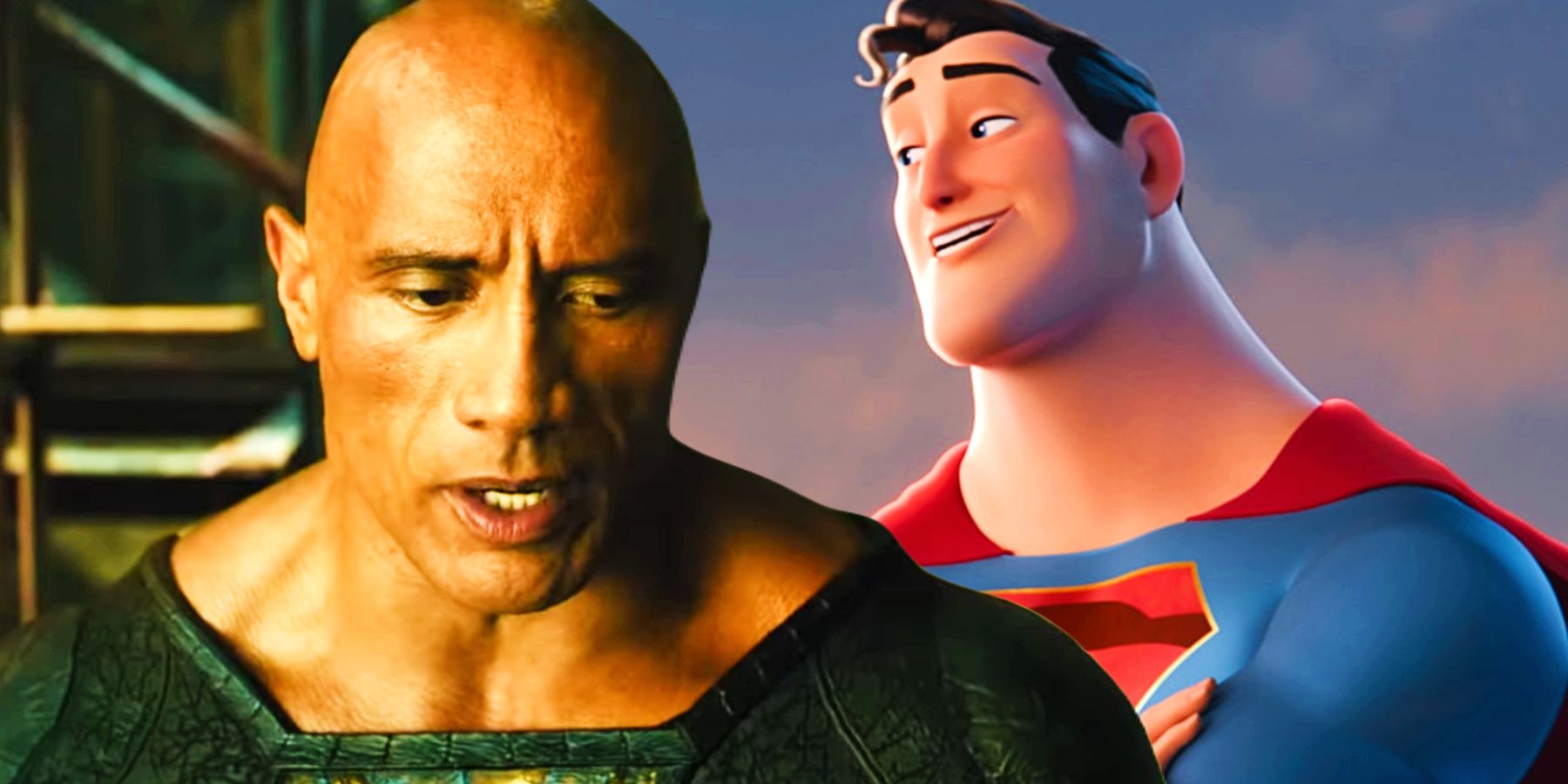 Dwayne "The Rock" Johnson just delivered a Black Adam and Superman crossover, but it's not what fans were expecting based on his many years of hype.
WARNING: This contains SPOILERS for DC League of Super-Pets.
Black Adam confronts Superman in the DC League of Super-Pets post-credits scene, raising the question of whether that was the crossover that The Rock has been teasing. More than 15 years after being cast as the live-action Black Adam in the DCEU, Dwayne "The Rock" Johnson finally got to make his DC projects a reality. Before the release of Black Adam this fall, audiences get to see The Rock playing another DC character in animation: Krypto, the canine companion of Superman. But the DC League of Super-Pets post-credits scene revealed The Rock's actual film debut as Black Adam, only in animated form.
At this point in his career, The Rock is no longer just an actor but also a producer. His movies usually come in the form of a collaboration between his production company, Seven Bucks, and the major studios. After successful deals with Warner Bros. for such movies as San Andreas and Rampage, The Rock entered the DC universe not just to portray Black Adam but also as a producer with exciting ideas for the future of the DCEU. The Rock promised that the hierarchy of power in the DC universe was about to change, which created expectations regarding potential Black Adam and Superman crossovers.
Related: The Rock & John Cena's Best DCEU Meeting Isn't A Battle
In the comics, the sometimes villain, sometimes antihero Black Adam is one of DC's strongest characters. Black Adam's origins and most famous stories are tied with the superhero Shazam, but the character has also clashed with Superman in both the comic books and in animation. For that reason — coupled with The Rock's constant tease of there being a shift at DC — an assumption arose that his Black Adam would eventually fight Superman on screen in a live-action movie. The Rock never shut down the rumors, and it seems like the actor-producer has indeed been vouching for major Black Adam crossovers, often mentioning how he wants to listen to the fans. However, after a frustrating answer given by The Rock at SDCC regarding Henry Cavill's Superman, what had seemed like a certainty was put in check. Now, in DC League of Super-Pets, at least one Black Adam and Superman faceoff involving The Rock indeed happened — in animation, separate from the DCEU.
DC League of Super-Pets' Black Adam Cameo Explained (Was That The Rock?)
DC League of Super-Pets' post-credits scene sees Superman, voiced by John Krasinski, playing outside with Krypto, voiced by The Rock. What seems like a regular day at the park takes a dramatic turn when Krypto bumps into another super-dog, one who is fast and agile enough to reach the squishy thrown by Superman first. That dog is Anubis, Black Adam's pet, and he is then revealed to be accompanied by his owner. Anubis vouches for Black Adam, saying that Black Adam is not a villain but rather an antihero. The Rock voiced both of those two cameo roles, meaning he performed three out of the four characters in the DC League of Super-Pets post-credits scene: Anubis, Krypto, and Black Adam.
DC League of Super-Pets Sets Up Black Adam Vs. Superman (In Animation)
In an Instagram post following the release of DC League of Super-Pets, The Rock offered a bit more context regarding the movie's post-credits scene and the Black Adam cameo. He highlighted that audiences already know how he feels about Black Adam versus Superman and that the DC League of Super-Pets post-credits scene was an opportunity to build out a new animated universe. The actor also mentioned a Black Adam universe, suggesting that he has plans for the character outside of the Black Adam movie. Given how DC League of Super-Pets director Jared Stern has confirmed that the animated Black Adam and the live-action movie Black Adam are two different characters, whatever plans exist for the DC Super-Pets universe, as The Rock named it, would not interfere with the upcoming live-action DCEU movies. Plans for DC League of Super-Pets 2 are yet to be revealed, but it would be no surprise if Black Adam's dog, Anubis, was to return to confront Superman's dog, Krypto.
Will The Rock's Black Adam Fight Superman In Live-Action?
In terms of live-action, the Black Adam versus Superman fight seems more complicated to pull off than many imagined. The status of Henry Cavill as Superman remains uncertain, which makes it more difficult to picture any immediate crossovers regarding that character. Black Adam is in the DCEU, meaning that a crossover with Superman would be best to star Cavill to maintain canon consistency. However, not even The Rock is sure of who would play Superman in this hypothetical Black Adam versus Superman fight, meaning that, as of now, there must be no solid plan for a crossover. That said, the DCEU can only move forward so far without a Superman. Whether Cavill will sign a new contract or be replaced as Superman is unknown, but in either case, there is still hope for a Black Adam and Superman crossover sometime in the future. Until then, the DC League of Super-Pets post-credits scene is the closest thing.
Next: DC Super-Pets Takes The MCU's Post-Credits Problem Even Further
Black Adam (2022)Release date: Oct 21, 2022
Shazam! Fury of the Gods (2022)Release date: Dec 21, 2022
Aquaman and the Lost Kingdom (2023)Release date: Mar 17, 2023
The Flash (2023)Release date: Jun 23, 2023
Blue Beetle (2023)Release date: Aug 18, 2023
Better Call Saul Fans Joke About Older Aaron Paul Playing Jesse Again
About The Author
Share this news on your Fb,Twitter and Whatsapp